Whether you are from the delta region of Mississippi or the pine timber lands of southern Arkansas and northern Louisiana, chances are that you have seen our maps hanging on the walls of banks, attorney's offices, court houses, hunting lodges and even service stations. But for those who are unfamiliar with our work, we have provided a few sample map images on our website to demonstrate the quality and accuracy of our product. If you need county maps that display property boundaries or custom multi colored "PDF" files incorporating a variety of information, we can provide you with quality mapping products and services that fit your needs.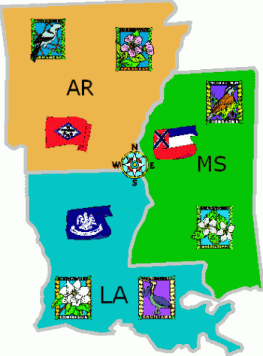 Our maps and plat books can be ordered using our secure online store. We also offer many other common publishing services including logo, advertisement, flyer, form-letter, website and business card design.
If you'd like to see examples of our maps, click here to visit our free samples page.
We are constantly working on a new map project or updating a previous edition. We have a news page that customers can visit for information on current projects, release dates and other announcements. Click here for our news page.
The maps we produce are layed out in section, township and range format. Visit our information page to learn a little more about surveying, mapping and related stuff.